WET BASEMENTS
A basement is an area below the first floor with a minimum height of 6 feet 8 inches. Basements may be unfinished or finished, and used to store personal belongings, house mechanical systems such as the HVAC system, electrical panel, and main plumbing controls. Many basements provide added living space, including bedrooms, bath, recreation rooms. \
Basements are typically the area of a structure most at risk for water damage because they are located below grade and surrounded by soil. Soil releases water it has absorbed during rain or when snow melts, and the water can end up in the basement through leaks or cracks. Water can even migrate through solid concrete walls via capillary action, which is a phenomenon whereby liquid spontaneously rises in a narrow space, such as a thin tube, or via porous materials. Wet basements can cause problems that include peeling paint, toxic mold contamination, building rot, foundation collapse, and termite damage. Even interior air quality can be affected if naturally occurring gasses released by the soil are being transmitted into the basement.

Most water issues in basements come from either improper drainage around the home or a high water table.

WATER DRAINAGE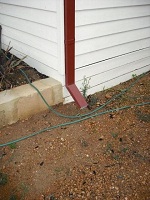 Install and maintain gutters and downspouts so that they route all rainwater and snow melt far enough away from the foundation of the building to ensure that pooling does not occur near the walls of the structure. At least 10 feet from the building is best, and at the point where water leaves the downspout, it should be able to flow freely away from the foundation instead of back toward it, and should not be collecting in pools. It is important to remember that gravel or stone do not provide the grade that will affect water movement. Water will drain down under stone and gravel until contacting the soil surface below.


The finish grade should be sloped away from the building for 10 to 15 feet. Low spots that may lead to water pooling should be evened out to prevent the possibility of standing water near the foundation.

Shallow ditches called swales should be used in conditions where one or more sides of the building face an upward slope. A swale should slope away from the building for 10 to 15 feet, at which point it can empty into another swale that directs water around to the downhill-side of the building, leading it away from the foundation.


WEEPING TILE AND SUMP PUMPS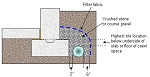 Foundation weeping tiles are actually not tiles but 6 inch diameter plastic pipe with small holes in it. Weeping tile pipe is placed against and level to the bottom of the foundation footing. Once the weeping tile pipe is completely installed, coarse gravel is placed on top and level with the top of the footing.
Newer homes have a Dimple Wrap installed against the foundation wall. This allows water to quickly drain down foundation to weeping tile, minimising contact with foundation wall and preventing any hydraulic water pressure to build up. The rest of the area is filled with backfill up to ground level. When rain water seeps down into the ground, the weeping tile pipe allows this water to drain off safely, keeping basements from leaking or flooding.
SUMP PUMP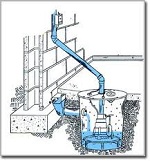 A sump pump is a pump placed in the basement of a home used to pump water from the basement to the outside or drain into the home's drainage system. Sump pumps usually work in conjunction with a sump pit, which is a hole dug in the basement of a house which collects water during a rainstorm. The pump then pumps the water out of that sump pit.. A sump pump is usually necessary either in cases where the home's basement is below the water table level, and or when the home is located in a place where flooding is common. Sump pumps are usually electric and battery backups are common in homes which have high water tables. The two most common types of sump pump are the standup type and submersible sump pump. Standup types of sump pumps usually have a bushing instead of a bearing and will frequently squeal due to corrosion if not used very often. It is recommended you test your sump pump monthly by adding water to sump hole which will then test pump and elimnate build up of corrosion on bushing.
Remember EXPERIENCE DOES MATTER
EMAIL ROGER This goes directly to Roger's Iphone and will be responded to shortly.
CALL ROGER - 705-795-8255 or Toll Free at 888-818-8608
When Only the Best Will Do - Call the Barrie Home Inspector
Roger 705-795-8255
Email Roger direct to his iPhone