Professional Home Inspections starting at $199.00
WETT inspections start at $50.00 with home inspection package
with 100% Money-Back Guarantee
View Sample Home Inspection Report
CRAWLSPACES
Crawlspace: The area within the confines of the foundation and between the ground and the underside of the lowest floor structural component. Crawlspaces may provide access to the electrical, plumbing, heating, ventilation and air conditioning (HVAC) systems located below the first floor.
WETT CRAWLSPACE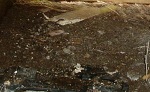 Water and moisture in your crawlspace can lead to the formation of mold and fungus. Just like pests, mold and fungus can grow rapidly in crawlspaces. They are both a health concern as well as a cause of wood decay, which can require a costly repair. Airborne mold spores can potentially enter the living space from the crawlspace. Molds produce allergens (substances that can cause allergic reactions), irritants and, in some cases, potentially toxic substances called mycotoxins. Inhaling or touching mold or mold spores may cause allergic reactions in sensitive individuals. Allergic responses include hay fever-type symptoms, such as sneezing, runny nose, red eyes, and skin rash (dermatitis).
Traditionally, crawlspaces have been vented to prevent problems with moisture, and most building codes require vents to aid in removing moisture from the crawlspace. However, many building professionals now recognize that ventilated crawlspaces allow a great deal of heat loss in the winter and moisture intrusion in the summer from moist air.
CRAWLSPACE REQUIREMENTS
1. Minimum access opening is 18 inches by 24 inches.
2. Minimum access opening if mechanical equipment (i.e. if an HVAC system is located in the crawlspace) is 30 inches by 30 inches.
3. Minimum clearance between the soil and joists is 18 inches and 12 inches between the soil and beams.
4. Minimum ventilation, every 150 square feet of floor space, requires a one square foot ventilation opening.
Remember EXPERIENCE DOES MATTER
EMAIL ROGER This goes directly to Roger's Iphone and will be responded to shortly.
CALL ROGER - 705-795-8255 or Toll Free at 888-818-8608
When Only the Best Will Do - Call the Barrie Home Inspector
Roger 705-795-8255
Email Roger direct to his iPhone